Man hit by 100kg boulder that his fiancee kicked
By Scott Yeoman, Eli Orzessek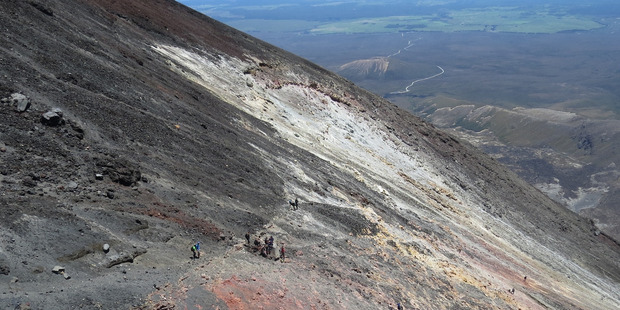 A British couple's tour of New Zealand got off to a rocky start yesterday - thanks to a tumbling boulder. Photo / Supplied
A British couple's tour of New Zealand got off to a rocky start yesterday - thanks to a tumbling boulder.
Charlie McCarthy, 26, was descending from the summit of Mt Ngauruhoe in Tongariro National Park with his fiancee, Kylie Davies, 28, when he got struck by the 100kg rock.
Mr McCarthy had been walking ahead of Ms Davies, who he said was "a bit scared" because of the slippery terrain and their lack of proper footwear.
"All of a sudden I could hear my name being shouted from behind and she had trod on and loosened this massive boulder," he said.
"It was literally just headed straight for my head, so I reacted and pushed it away from my head and it landed on the side of my body."
Mr McCarthy's thigh and hip took the brunt of the impact, leaving him in a lot of pain as the couple tried to find cellphone reception in order to call for help.
Once emergency services were notified, a member of the Ruapehu Alpine Rescue Organisation (Raro) was lowered down by helicopter to the rim of the volcano's crater.
In high temperatures and wind, he scrambled about 60m further down to where Mr McCarthy was lying.
A long line - about 34m in length - was then hooked onto the helicopter. Mr McCarthy was wrapped in a rescue stretcher bag and, with the rescuer, was attached to the rope and flown to a staging area at Soda Springs, about 900m below where he was hit.
There, paramedics tended to his injuries before the Taupo-based Greenlea Rescue helicopter flew him to Rotorua Hospital.
Greenlea base manager Nat Every, the pilot for the rescue, said such incidents were not uncommon.
"Those things happen from time to time. The problem with climbing up Mt Ngauruhoe is the route up the mountain and the route down the mountain are not too far offset from each other and if someone dislodges a boulder, obviously it's a danger to all those who are below them."
He said the chances of getting struck by a boulder increased the further climbers were down the mountain because there were more people above them. "Which is just this unfortunate chap's luck - to be struck by a boulder right at the top of the mountain, basically."
Mr McCarthy was lucky not to break any bones, although deep bruising means he will be walking on crutches for a while.
Late last night, talking to the Herald, he had nothing but praise for his rescuers and those who treated him in hospital.
"The flight crew who picked us up off the mountain were super, they were absolutely wicked," he said. "The nurses and doctors at Rotorua were really helpful, too."
And while his fiancee felt "really bad" about what happened - "She tried to kill me; make sure you put that in," he joked - it seems their relationship isn't on the rocks just yet.
They will now make their way to the South Island for more adventures.
http://www.nzherald.co.nz/nz/news/article.cfm?c_id=1&objectid=11566946
--
__._,_.___