Christchurch earthquake: Levels of liquefaction 300 - 500 pc worse
By Hayden Donnell and Paul Harper

6:13 PM Friday Feb 25, 2011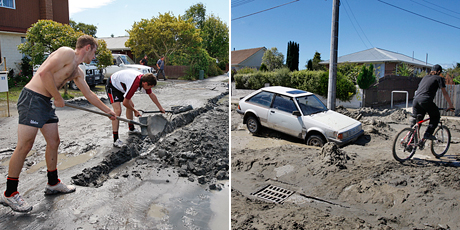 The level of liquefaction after Tuesday's 6.3 magnitude aftershock dwarfs the amount caused by the original earthquake that hit Christchurch in September, Mayor Bob Parker says.
He says the amount of damage is particularly high in the city's eastern suburbs.
"The scale of this is huge.
"Possibly 300 to 500 per cent the level of liquefaction we had in September."

Liquefaction happens when soil is subjected to severe shaking, causing it to lose strength or stiffness.
It is most likely to occur in soils with poor drainage.
At a press conference this evening, Mr Parker also reminded Christchurch residents to conserve water amid efforts to repair the city's infrastructure.
That means not watering gardens and shutting down automatic irrigation systems, he says.
"These things go without saying but sometimes you've got to say them."
As much of the city was still without water, Mr Parker said there were now 780 portaloos now in city, another 250 in transit, 963 en route from USA and 5000 chemical toilets.

Mr Parker also gave an update on the Hotel Grand Chancellor, which has been at risk of collapse since Tuesday's devastating quake.
He said the hotel may need to be brought down so rescue and recovery teams can enter damaged buildings in the city centre.
A four block area around the damaged building has been cordoned off due to fears it could collapse.
"It causes us significant problems. Clearly there needs to be some kind of resolution."
At the same press conference, Inspector Derek Erasmus said the official death toll had not risen from 113.
He released two more names of deceased - 46-year-old Andrew Christian Ross Craig and 32-year-old Jeff Pelesa Sanft, who the Herald earlier reported was a young father who died when a bus he was travelling in was crushed by debris.
Mr Erasmus also said a 323-strong team of Australian police have been sworn in as New Zealand officers to aid the recovery and rescue operation in Christchurch.
Their presence will be vital as police check damage, sift through rubble and look to stop a rash of crime in the city, Mr Erasmus said.
Eight people were arrested overnight for crimes including burglary and impersonating earthquake relief officials.

The press release came soon after two more sharp aftershocks struck the city.

The first, at 5.40pm, was a 4.4 magnitude tremor at a depth of 6km, 10km south of Christchurch.
Six minutes later a 3.3 magnitude quake hit, only 1km beneath the surface within 5km of Diamond Harbour.

The shocks came after a gap of several hours since the last recorded quake.
Source
--------------------------------------------------------------------------------------------------------------------------------
Christchurch earthquake death toll rises to 113 with hundreds still missing
The number of confirmed dead from the Christchurch earthquake has climbed to 113, with grave fears held for 228 people still missing.
Search and rescue teams from six nations combing the rubble of collapsed buildings refused to give up hope of finding anyone else alive but acknowledged the chances were looking bleak.
No survivor has been pulled from the mangled and twisted wreckage since Wednesday.
Superintendent Dave Cliff said the rain could make already dangerous masonry and buildings even more unstable.
"Rescue staff are operating in highly dangerous and volatile situations, and we are continually reassessing the risks."
One rescue worker had been hit on the head by a piece of falling masonry but had been saved by his hard hat, Superintendent Cliff said.
Police released the names of two more of the deceased, bringing the total to six, all Christchurch residents.
They defended the delay in naming victims, saying officers needed time to complete the painstaking process of identification through DNA, fingerprints, dental records or personal information.
Murray McCully, the Foreign Minister, warned diplomats that many overseas families would have to be informed of relatives' deaths.
"I can say clearly this is not just New Zealand's tragedy," he said.
He said the rescue phase after the earthquake was drawing to its conclusion, and the emphasis would inevitably switch to recovery of bodies.
"We are going through a difficult period as more are recovered, and more and more families find out their loved ones are deceased."
Mr McCully could not say how many of the missing were foreign nationals.
Two Britons known to be among the dead are backpacker Greg Tobin, 25, from Tadcaster, North Yorks, and Susan Selway, 50, who was married to a New Zealander and lived in Christchurch.
Irishman Eoin McKenna, from County Monaghan, is also known to have died.
Among the missing is British-born Phil Coppeard, 41, and another unknown British man, who were on a bus in central Christchurch when the quake struck.
Chinese and Japanese English-language students were in the Canterbury Television building when it collapsed.
The youngest confirmed victim was a local baby, Baxtor Gowland, aged just five months, who was born two weeks after the earthquake that rocked Christchurch in September.
The circumstances of his death were not known.
Sites being searched on Friday included the ruins of the city's neo-Gothic cathedral, where 22 people were thought to be buried.
Officials believe most of them are overseas tourists, some of whom were in the belltower lookout when the spire collapsed.
Dr Stuart Philip, a urologist who was in Christchurch attending a medical conference, told how he and a female colleague used a Swiss army knife and a hacksaw to amputate a trapped man's legs so he could be saved from the ruined Pyne Gould building.
They sedated the man, known only as Brian, borrowing the tools from local tradesmen who had turned up to offer help.
"At one stage when we were having aftershocks and the rubble was falling, we weren't sure if we were going to make it out alive," Dr Philip said.
He said his colleague was so traumatised by the procedure that she preferred to remain anonymous.
The 52-year-old amputee, known to the doctor only as Brian, is recovering in hospital.
Meanwhile, there was outrage over revelations that thieves had ransacked the home of Donna Manning, a television presenter who died in the earthquake.
As Ms Manning's children Kent, 15, and Lizzy, 18, kept vigil for her outside the collapsed Canterbury Television building, burglars were looting the family home, which had suffered quake damage.
"Any people caught looting should be dropped in the middle of Hagley Park and left to the mercy of the crowd," Twitter user Phil Wheeler wrote on the social networking website.
Police said there had been a spate of people impersonating officials to gain access to properties, and warned householders to be vigilant.
In some suburbs, residents were still shovelling grey sludge away from their homes after widespread liquefaction, in which the soil literally turned to liquid then set again like a jelly.
Authorities said that by Friday power supplies had been restored to 75 per cent of the city and reticulated water to 50 per cent.
Hundreds of homeless residents were spending a fourth night in temporary shelter.
Source
--
Got Penguins?
Penguin News Today
The Science of Penguins
The Gentoos are back! Come see them on live cam at:
Gentoo Penguins of Gars O'Higgins Station, Antarctica
__._,_.___